31 августа 2017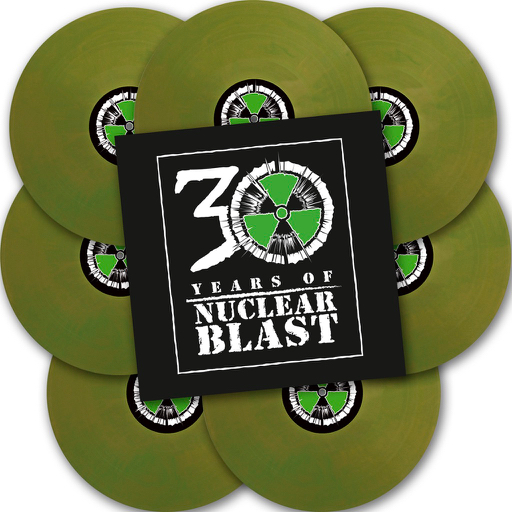 В честь тридцатилетия Nuclear Blast выпустят семидисковый виниловый сборник с треками артистов, подписанных на лейбле. Тираж составит тысячу копий. релиз намечен на 27 октября:
LP1
Side A
Dimmu Borgir — "Mourning Palace"
Hypocrisy — "Roswell 47"
Children Of Bodom — "Morrigan"
Behemoth — "Ov Fire And The Void"
Immortal — "Hordes To War"
Benediction — "The Grotesque"
Side B
Carcass — "Unfit For Human Consumption"
Kataklysm — "In Shadows & Dust"
Memoriam — "Memoriam"
Soilwork — "As We Speak"
Cradle Of Filth — "Blackest Magick In Practice"
Equilibrium — "Born To Be Epic"
LP2
Side A
Slayer — "Repentless"
Lamb Of God — "Still Echoes"
Testament — "More Than Meets The Eye"
Overkill — "Ironbound"
Exodus — "Salt The Wound"
Death Angel — "Sonic Beatdown"
Side B
Kreator — "Gods Of Violence"
Anthrax — "For All Kings"
Machine Head — "Killers & Kings"
Destruction — "Thrash Till Death"
Tankard — "A Girl Called Cerveza"
Die Apokalyptischen Reiter — "Unter Der Asche"
LP3
Side A
Accept — "Teutonic Terror"
Blind Guardian — "Fly"
Helloween — "Lost In America"
Primal Fear — "Seven Seals"
Threshold — "Staring At The Sun"
Rage — "The Devil Strikes Again"
Side B
Sabaton — "To Hell And Back"
Edguy — "Superheroes"
Battle Beast — "Over The Top"
Metal Church — "Killing Your Time"
Doro — "Raise Your Fist In The Air"
Black Star Riders — "Heavy Fire"
Hammerfall — "Hearts On Fire"
LP4
Side A
Nightwish — "Élan"
Avantasia — "Mystery Of A Blood Red Rose"
Amorphis — "Silver Bride"
Eluveitie — "Omnos"
Sonata Arctica — "The Wolves Die Young"
Luca Turilli's Rhapsody — "Rosenkreuz"
Side B
Therion — "To Mega Therion"
Epica — "Never Enough"
Twilight Force — "Powerwind"
Symphony X -"Without You"
The Kovenant — "New World Order"
LP5
Side A
In Flames — "The End"
Fear Factory — "Dielectric"
Pain — "Call Me"
Devil You Know — "Shattered Silence"
Mantar — "Era Borealis"
Grand Magus — "Triumph And Power"
Side B
Meshuggah — "Future Breed Machine"
Hatebreed — "Honor Never Dies"
Sepultura — "I Am The Enemy"
Killer Be Killed — "Wings Of Feather And Wax"
Discharge — "Infected"
Agnostic Front — "The American Dream Died"
Soulfly — "We Sold Our Souls To Metal"
Madball — "Hardcore Lives"
Rise Of The Northstar — "Samurai Spirit"
LP6
Side A
Blues Pills — "Lady In Gold"
Kadavar — "Last Living Dinosaur"
Witchcraft — "It's Not Because Of You"
Graveyard — "The Apple & The Tree"
Crobot — "Legend Of the Spaceborne Killer"
Orchid — "Wizard Of War"
Scorpion Child — "Polygon Of Eyes"
Side B
Opeth — "Sorceress"
Enslaved — "One Thousand Years Of Pain"
Avatarium — "Girl With The Raven Mask"
The Doomsday Kingdom — "The Never Machine"
LP7
Side A
Suicide Silence — "Doris"
The Charm The Fury — "Down On The Ropes"
Forever Still — "Miss Madness"
Fallujah — "The Void Alone"
Страница: 1 2
Оставьте свой отзыв!
Вам нужно войти, чтобы оставить комментарий.