28 октября 2017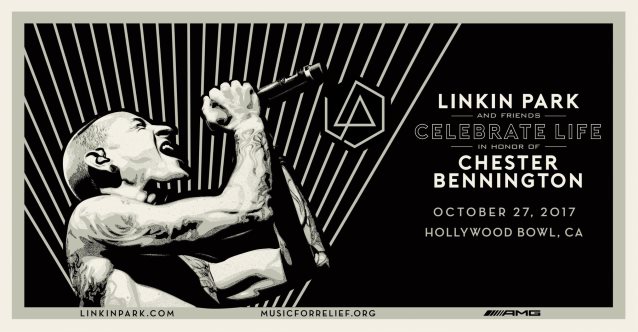 27 октября состоялся концерт памяти вокалиста LINKIN PARK Честера Беннингтона, «Linkin Park And Friends Celebrate Life In Honor Of Chester Bennington» — видео доступно для просмотра ниже.
Сет-лист:
Robot Boy / The Messenger / Iridescent
Roads Untraveled (Live Debut (with Jon Green in shadows))
Numb (crowd singing the entire song)
Shadow of the Day (with U2's With or Without You extended bridge, with Ryan Key of Yellowcard, first time with live vio)
Leave Out All the Rest (with Gavin Rossdale of Bush, first time with live violin)
Somewhere I Belong (with Takahiro "Taka" Moriuchi of ONE OK ROCK)
Unicorns & Lolipops (video only)
Castle of Glass (with Adrian Young, Tom Dumont and Tony Kanal of No Doubt, and Alanis Morissette)
Rest (Alanis Morissette cover) (New Alanis song played by Alanis Morissette & Mike Farrell)
Nobody Can Save Me (with Steven McKellar of Civil Twilight and Jon Green)
Battle Symphony (with Jon Green)
Sharp Edges (with Ilsey Juber)
Talking to Myself (with Ilsey Juber, with Bob Dylan's All Along the Watchtower)
Heavy (with Kiiara) (also with Julia Michaels)
One More Light
Looking for an Answer (Mike Shinoda only, live debut, brand new song, written after Chester's death)
Waiting for the End (ext. Intro/Outro w/ Mike singing v1/c1 on piano,Apaches Intro,w/ Steven McKellar and Sydney Sierota)
Crawling (with Oliver Sykes of Bring Me the Horizon and Zedd on drums)
Papercut (with Machine Gun Kelly)
One Step Closer (with Ryan Shuck and Amir Derakh of Julien-K and Dead by Sunrise and Jonathan Davis of KoRn)
A Place for My Head (with Jeremy McKinnon) (J.M. from A Day To Remember)
Rebellion (with Daron Malakian and Shavo Odadjian of System of a Down and Frank Zummo of Sum 41)
The Catalyst (with Deryck Whibley and Frank Zummo of Sum 41 and Jon Green (keys), shortened, no third chorus or br)
I Miss You (blink‐182 cover) (with blink‐182)
What I've Done (with blink‐182)
In the End (Audience singing Chester's part. After the song Chester's wife Talinda Bennington did a speech)
Encore:
Iridescent (bridge until end)
New Divide (shortened, v1/c1/bridge until end, with Chester's pre-recorded vocals from a 2014 show)
A Light That Never Comes (with Steve Aoki) (Bebe Rexha and Frank Zummo on drums)
Burn It Down (with M. Shadows of Avenged Sevenfold)
Faint (Ext. outro, with M. Shadows and Synyster Gates of Avenged Sevenfold)
Bleed It Out (extended bridge with The Messenger chorus until the end of the song, with everyone except Jonathan D) #Linkin_Park
Оставьте свой отзыв!
Вам нужно войти, чтобы оставить комментарий.